It's been a week or so since I updated because I received these two beauties in the mail:
This is the Welcome Home wall hanging pattern I ordered from
Buttons and Bees
. I am making this as a gift for someone special. Ms. Gaddy does beautiful work, but this pattern could use a bit of editing. I can't help but cringe when I find typos in products (I am a lawyer, after all). I know everyone is susceptible to mistakes (even moi!), so I must forgive them.
She could also use a little formatting help. This is an applique pattern, so the consumer needs to be able to cut out the pattern and use it as is. The pattern was printed on regular 8.5" x 11" paper, which is fine, but she didn't take into account the paper margins. Typically what you see is that the pattern "overlaps" when it is continued onto a second page so the consumer can merely connect the pieces after they're done cutting them out. In this case, I had to do some creative "fill in the gap"-- nothing too difficult, but a little annoying because I paid $10 (after shipping) for this pattern.
Overall, the instructions and piecing diagrams are fine--as a quilting novice, I should be able to follow them just fine. Now if I can just perfect my needle turn applique, we'll be rocking!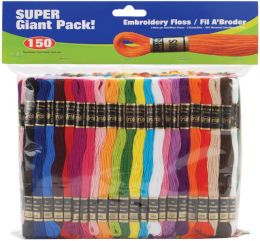 And this is the SUPER Giant Pack! of Iris embroidery floss. I know this isn't the highest quality brand in the world, but frankly, I don't do a whole lot of embroidery or cross stitch anymore. As long as it will withstand a hand-washing without bleeding dye, that's all I ask. Then why buy 150 skeins, you ask? Because I have a design in mind and I have no idea how much floss I will need for it. I'll be blogging my steps through this process, so stay tuned! As an FYI for anyone considering buying this particular product: obviously you're not buying 150 different colors, but be forewarned: there are only about 35 unique colors in this package. They seemed to do a pretty good job of providing extra skeins of the colors you use more often.
Needless to say, now I've been spending every spare waking moment working on several projects. Now my home is in disarray! I'll be back when I get some cleaning done. Until then, happy crafting!